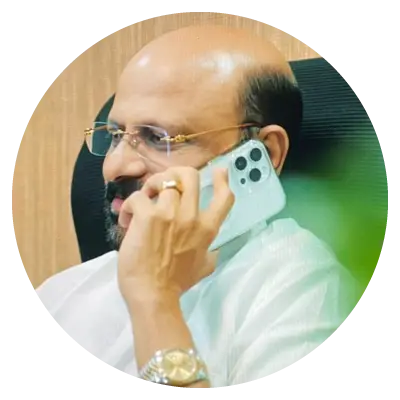 Mr.V.K.Avirachan (V.K.Raju)
Mr. V. K. Avirachan, popularly known as V. K. Raju, an industrialist with extensive knowledge spanning more than three and a half decades in the field of manufacturing, distribution and retailing diversities.
As a businessman, Mr. Avirachan did have his own share of struggle in the initial years, but he did overcome them by putting his determined efforts and now he has his businesses lined up in a horizon that others crave to pursue. This humble entrepreneur has walked extra mile to touch these heights only with dedicated passion and intense urge to succeed.
Completing his education and with some exposure in the medical domain, he ventured into the distribution of PVC Pipes and allied products. Realising the relevance of quality to be maintained in these product segments and extracting the market prospectives, he pitched into the manufacturing of PVC Pipes under the name "GOODWILL" which itself became a synonym of quality. The overwhelming response to the products demonstrates his wisdom in starting a manufacturing business at an apparent time.
Sprouted from Travancore Tubes in 1983, the wholesale Division of branded plumbing materials, stretched its wings to Tara Sanitarywares and Tiles in 1993, the retail division that has national and international brands of tiles and sanitarywares in its armor. During the year 2000, the group further expanded by structuring Goodwill Polymers with state-of-the-art manufacturing and cutting-edge facilities at KINFRA Industries Park, Kazhakoottam in order to cater the growing demands of premium quality PVC Pipes, Electrical Conduit Pipes, PVC Hoses for industrial, agricultural and gardening purposes. Later, Goodwill Extrusions was entrenched in the year 2013 in order to manufacture premium grade water tanks, septic tanks and related products using 100% virgin material.
Through his constant innovations and committed efforts, "GOODWILL" has flourished marking its presence all over Kerala and Tamil Nadu bestowing to the industrial growth of the State and promoting the vision "BRAND KERALA".
The Group is accredited with ISO – 9001 standards and also grabbed BIS License to manufacture and market PVC Pipes conforms to IS – 4985 and Electrical Conduit Pipes conforms to IS – 9537 Standards.
In recognition to his extensive and impactful contributions in the field of business, he is honoured with several awards and recognitions and some of them are:
His devotion towards building a prestigious business was wholeheartedly supported by his better half, Mrs. Lissy Avirachan, a Teacher by Profession, and they are blessed with two daughters and a son.
Mr. Avirachan, through his committed efforts, stands as an icon for entrepreneurs by his driven passion towards crafting a successful business environment in the State.